Welcome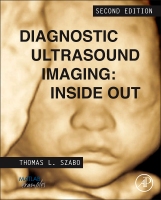 Welcome to the website for Szabo, T: Diagnostic Ultrasound Imaging: Inside Out, 2nd Edition.
Diagnostic Ultrasound Imaging provides a unified description of the physical principles of ultrasound imaging, signal processing, systems and measurements. This comprehensive reference is a core resource for both graduate students and engineers in medical ultrasound research and design. With continuing rapid technological development of ultrasound in medical diagnosis, it is a critical subject for biomedical engineers, clinical and healthcare engineers and practitioners, medical physicists, and related professionals in the fields of signal and image processing.
The book contains 17 new and updated chapters covering the fundamentals and latest advances in the area, and includes four appendices, 450 figures (60 available in color), and almost 1,500 references. In addition to the continual influx of readers entering the field of ultrasound worldwide who need the broad grounding in the core technologies of ultrasound, this book provides those already working in these areas with clear and comprehensive expositions of these key new topics as well as introductions to state-of-the-art innovations in this field.
This new edition is over 50% larger, contains many new topics (see contents), nearly 1500 references and 450 figures (60 in color).
The print edition does not have figures in color; however, these are accessible for download on this site.

The e-version of the book has color figures.
You can download the latest suite of MATLAB ® here → http://www.mathworks.com/