Welcome

Welcome to the website for McIntosh and Pointus: Case Studies for Integrating Science and the Global Environment.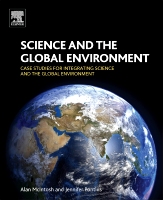 Many academic environmental science and natural resource programs feature introductory classes designed for students either interested in science and environmental issues or who are planning to major in the field.  Often already having completed AP science classes and, in many cases, having had hands-on experience with laboratory and/or field investigations, today's students are well prepared to tackle often complex environmental issues. This textbook is designed for these students who are ready to take that "next" step and apply what they've learned in their science and math classes to real-world problems.
Rather than covering basic environmental concepts and processes in theoretical terms, this text is designed to guide students through the application of basic environmental concepts to real world problems.  Because not all students will have the same level of prior understanding of these concepts, this web based resource page provides students with links to external review materials that will provide additional background. This information should ensure that all students can master the foundational concepts explored in each case study. 
The heart of the book is a series of 19 case studies focused in three areas: water resources; air quality and atmospheric sciences; and the landscape. While we hope that all students using the textbook will have sufficient background knowledge to tackle the case studies, we recognize that some individuals may need additional review. For each case study, we provide here a Resource Page that contains both a basic review, links to web sites that present more in-depth material, and downloads or links to materials referenced in the case studies themselves.
This textbook makes an important contribution by helping students apply the knowledge they've gained in their coursework to address real-world problems.  These Resource Pages should also serve as a useful reference beyond the scope of any one class, and continue to guide students as they begin their careers as professional environmental scientists.